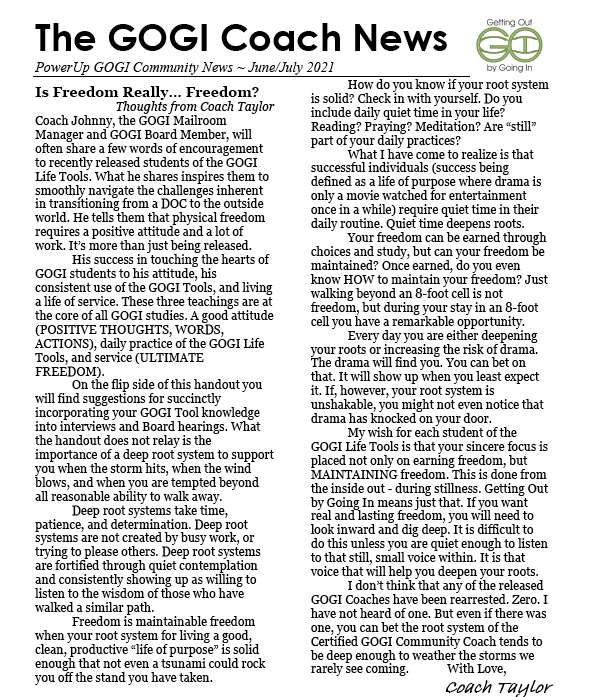 In This Issue:
Is Freedom Really Freedom?
Parole Hearings – The GOGI Way
---
Is Freedom Really… Freedom?
Thoughts from Coach Taylor
Coach Johnny, the GOGI Mailroom Manager and GOGI Board Member, will often share a few words of encouragement to recently released students of the GOGI Life Tools. What he shares inspires them to smoothly navigate the challenges inherent in transitioning from a DOC to the outside world. He tells them that physical freedom requires a positive attitude and a lot of work. It's more than just being released.
His success in touching the hearts of GOGI students to his attitude, his consistent use of the GOGI Tools, and living a life of service. These three teachings are at the core of all GOGI studies. A good attitude (POSITIVE THOUGHTS, WORDS, ACTIONS), daily practice of the GOGI Life Tools, and service (ULTIMATE FREEDOM).
On the flip side of this .pdf handout you will find suggestions for succinctly incorporating your GOGI Tool knowledge into interviews and Board hearings. What the handout does not relay is the importance of a deep root system to support you when the storm hits, when the wind blows, and when you are tempted beyond all reasonable ability to walk away.
Deep root systems take time, patience, and determination. Deep root systems are not created by busy work, or
trying to please others. Deep root systems are fortified through quiet contemplation and consistently showing up as willing to listen to the wisdom of those who have walked a similar path. Read More by clicking the button below to download the GOGI Coach News .pdf.
Download The GOGI Coach News - June/July 2021.pdf