Getting Out by Going In
a positive prison culture
created BY prisoners FOR prisoners
GOGI is the simplest solution to the current prison problem.
GOGI courses, GOGI books, GOGI TV, GOGI Groups, and GOGI Leadership Training.
All designed by prisoners, for prisoners.
GOGI is changing the system, one cell at a time.
GOGI began in 2002 when a small group of prisoners were asked what it would take for them to be "successful" when they were sent home. Since then, GOGI has become a cultural movement and organically and virally spread across the USA and beyond.
A positive prison culture has emerged, a culture which was created BY and FOR prisoners. Relying on 100 percent volunteerism and viral and organic growth, GOGI has emerged as an undisputed leader in prison reform ~ one cell at a time....
Change now has a voice.
GOGI is the voice of 2.3 million incarcerated men, women and children who are willing to improve their lives with positive decisions. We work from the ground up with tools that were created by prisoners for other prisoners.
Since 2002, GOGI has experienced viral and organic growth inside Federal, State and County settings of incarceration. The result is a cultural movement transforming people at their lowest into powerful, productive, and positive members of society.
GOGI WORKS!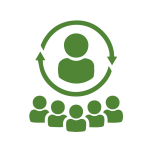 By prisoners for prisoners
For over a decade, GOGI has worked with inmates to create these tools. We rely on prisoners to be the solution to the prison problem. Why? They know what they need the most.

Founded in real psychology
GOGI creates a lasting internal change based on solid behavioral therapy modalities. We take existing psychology and keep it simple.
GOGI is for everyone
GOGI is for every race, age, gender, sex, and religion. Our tools are universal and customizable for every type of learner. GOGI can be studied anywhere, anytime, alone, or in groups.
"Living the GOGI Way has changed my life. Now I go in and out of prisons and jails through the front door, not the squad car. As a GOGI Graduate and GOGI Coach I now help others see what is possible with GOGI."
-Coach Kathy Lucero
GOGI Coach
WE NEED GOGI
Is there any human who does not need help making more positive decisions?
Is there any human who does not benefit from living their life aware of their impact on others?
Crime can be eliminated by promoting, encouraging, rewarding and celebrating positive decision making. At GOGI, we start at the root of the problem, with those who have hurt society the most. We need to stop the harm and help prisoners live honorable lives of service.
OUR MISSION
Our mission is the successful return of incarcerated men, women and children back into society.  But, even further than that, our mission is to empower these individuals to exemplify what it is like to live a life of service to community, living every life through tools of positive decision making.