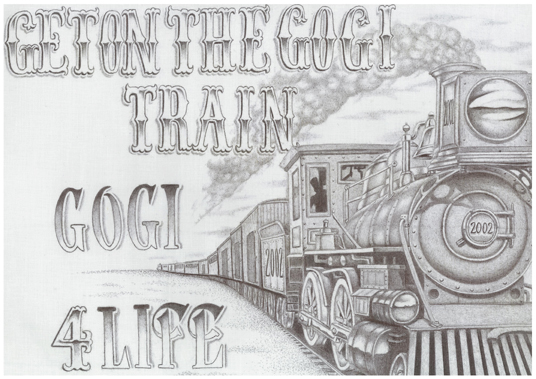 POSITIVE ACTIONS was added to the GOGI Toolbox during the two year period when the Los Angeles County Sheriff's Department permitted the first ever GOGI Campus. In this 24 bed jail housing module, which was also as the former housing unit for movie actor Robert Downey Jr. and Paris Hilton (not housed there at the same time, obviously), the GOGI Campus was home to a total of 350 women who came into and left out of the housing as their court cases dictated.
At GOGI Campus we focused all daily activities on living and learning the GOGI Tools for Positive Decision Making. The women were instructed to be out of their cells by 0700 each morning and join their GOGI peers in the dayroom. They were not permitted to return to their cells until 1700 hours when the food trays would be delivered. Every day, all day was spent sitting at the metal spider-tables, taking turns creating curricula and classes for each other.
They created GOGI Parenting classes, GOGI for addictions, anger, and domestic violence. They had GOGI art, GOGI songs and GOGI Yoga classes they created and taught to each other.
This is how the tool POSITIVE ACTIONS got added to the GOGI Toolbox. Twenty four women sitting all day, every day around cold metal tables in a cinder block jail housing module that reeked with stale air from which there was no escape. In a very real way, this windowless petri dish for change became their only world.
The women of GOGI Campus came to understand that if not engaged in POSITIVE ACTIONS all day, every day, the situation in this pressure cooker of emotion called their housing unit could go south very quickly.

They made a pact, a promise to each other, that if the action was not POWERFUL, if it was not PRODUCTIVE and if it was not POSITIVE then it was not a part of GOGI Campus. These three filters of POWERFUL, PRODUCTIVE, and POSITIVE determined their daily activities. And so it was that the GOGI Tool called POSITIVE ACTIONS was added to the GOGI Toolbox.
The women of GOGI Campus, by the way, eventually transferred one at a time from the jail as they were released or were sent to prison, a fate entirely dependent upon their crimes, addictions and jury outcomes. In every case where the GOGI Girl put her POSITIVE ACTIONS tool to use, her life improved. While a simple tool, POSITIVE ACTIONS provided the power to unite mother with child, provided physical and emotional freedom, and opened a previously sad life to the power of living The GOGI Way. In every case POSITIVE ACTIONS provided a new window to a previously unseen world of possibilities.