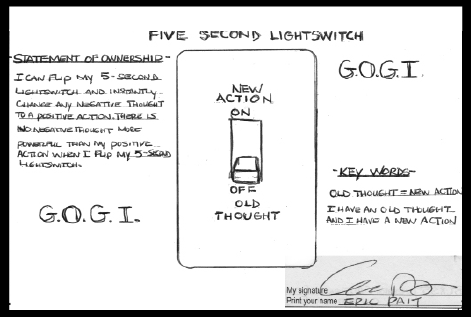 We all can make better decisions, and GOGI offers a simple way to help you reach your goals and create a better version of you. While the GOGI Tools are studied according to the GOGI Calendar of Study, you can pull out a GOGI Tool at any time, any where. Just remember, all tools are only useful if you put them to work.
Here's a quote from page 53 of "Power Up Your Life The GOGI Way: The PowerUp! Manual —
FIVE SECOND LIGHTSWITCH is part of the set of Tools called TOOLS OF THE BODY and was created when a group of Students of GOGI wanted to find a way to get their actions to not be so reactive or automatic.
Wanting to find a way to simply stop decisions and choices that were lightning fast and seemed out of control, they created the ability to FLIP THE SWITCH and redirect any thought within five seconds to a positive action. When you have a positive action already picked out, it is easier to FLIP THE SWITCH. When you have your FIVE SECOND LIGHTSWITCH ready, you can make sure you don't make the same mistakes of the past. FLIP THE SWITCH and you can shine the light where you are directing your life and go that direction with confidence.
Stopping a negative thought or stopping an urge sometimes feels impossible. FIVE SECOND LIGHTSWITCH is a great Tool to help overcome this obstacle.
To request a free copy of the PowerUp! Support Meeting Manual pages found in Section Four of the book, just email GOGI from the contact page.

To order your own copy of Power Up Your Life the GOGI Way: The PowerUp Manual, go to www.gettingoutbygoingin.org/store
Click to view the GOGI Tool Study Calendar

Art is a gift to GOGI from GOGI student Eric Pait.