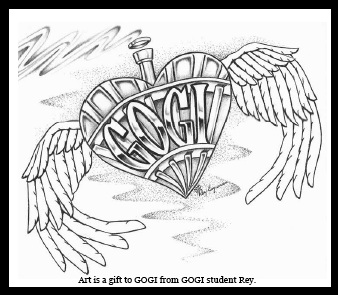 We all can make better decisions, and GOGI offers a simple way to help you reach your goals and create a better version of you. While the GOGI Tools are studied according to the GOGI Calendar of Study, you can pull out a GOGI Tool at any time, any where. Just remember, all tools are only useful if you put them to work.
Here's a quote from page 91 of "Power Up Your Life The GOGI Way: The PowerUp! Manual —
CLAIM RESPONSIBILITY is part of the set of Tools called TOOLS OF MOVING FORWARD. This Tool is not about claiming responsibility for the past. Instead, the Tool CLAIM RESPONSIBILITY is about today and tomorrow.
When you use this Tool, you realize that how you respond and react to anything is under your direct command. No one can make you angry. It is you who may choose to let others anger you. No one can make you violent. It is you who may choose if you will let others bring out violence in your behavior. No one can make you drink or use drugs. It is you who gets to choose if you put yourself in a position where saying no is a challenge. When you use CLAIM RESPONSIBILITY, you move forward toward a life you may have never thought possible.
There are many ways to interpret the words "claim" and "responsibility". Together, the way GOGI uses these words as a Tool, they provide a powerful way to gain perspective with which you can move forward in your life. There are many things that happened to and around you in the past, many of them were your responsibility and many things were not your responsibility, or you had no knowledge or choice in the matter. Using CLAIM RESPONSIBILITY as a GOGI Tool is not about the past at all.
GOGI does not focus on reconciling the past because it could take years, and possibly a lifetime, to understand what occurred and why, and to unravel the mess that resulted. GOGI is about creating a positive future for individuals trying to resolve the past. The fact is, the past is more easily reconciled when you have momentum moving positively into the present and future.
To get a free copy of the PowerUp! Support Meeting Manual pages found in Section Four of the book click here.

To order your own copy of Power Up Your Life the GOGI Way: The PowerUp Manual, go to www.gettingoutbygoingin.org/store
Click to view the GOGI Tool Study Calendar

Art is a gift to GOGI student Rey.